close X
Notification of cookies
This site uses cookies and other technologies for automated storage data for statistical purposes, implementation services and advertising. By using our sites without changing the browser settings will be stored in memory.
About Us
OSKAR COACHES – TRAVEL IN STYLE
Regardless of the transport means used for travelling on a daily basis, most of us appreciate similar, universal values. The most frequently demanded values include comfort, safety or reaching the destination as quickly as possible.
OSKAR Group
is a a comprehensive service combining travel and transport of people. This group includes:
Centrum Turystyki OSKAR: excursions and holiday trips
OSKAR-TRANS: bus rental, passenger transport
OSKAR-TRANS is a transport company that aims at meeting the most strict requirements concerning transport of people using coaches available for hire. Each year, OSKAR coaches record an increasing number of passengers and customers, who appreciate the exceptional quality of vehicles, their big selection of equipment as well as the high organizational culture of the company.
EACH DETAIL IS IMPORTANT
More than 10 years of experience allowed us to develop our own individual business character based on three important supports – safety of driving, comfort of travel and latest technologies.
The coaches for hire included in the OSKAR-TRANS fleet must meet all of the above criteria. This is why our vehicles are selected among such recognised brands as VDL, IRIZAR, SCANIA and MAN.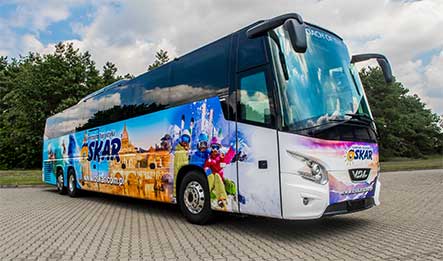 All our coaches are not older than 3 years – most of them were manufactured in 2015 and 2016.
OSKAR COACHES are equipped with air conditioning, bar with hot drinks, toilet, DVD, while selected highest-class OSKAR PREMIUM coaches are also equipped with a multimedia Funtoro or Buspad system.
OSKAR – OUR STORIES
How to transport beautiful folk clothing without creasing and damaging it?

One of the folk dance groups, travelling to an international completion, faced this challenge.

A double-deck OSKAR coach was the solution where a part of the upper deck was adjusted to hold hangers for clothes. This ensured that all uniforms were perfectly prepared for the performance and the artists could relax during the long trip.
FLEXIBLE TRANSPORT SERVICES
We provide services to customers operating in various industries. These are institutions and companies as well as private individuals. We also cooperate with other transport companies and agents, organizing excursions.
We prepare a custom offer for each order taking into account the business profile, trip specifics or particular transport logistics.
Oskar-Trans sp. z o. o. – many unique stories which have one thing in common – joy from travel and interesting challenges!

CUSTOMER REVIEWS
The biggest impression when it comes to OSKAR coaches is their equipment, space and cleanliness. It's hard to compare them with anything else – these coaches are one of a kind! Modern, safe and reliable.
Marcin, Travel Agency,
Warszaw
Comfort during the trip is particullary important to football players. When choosing the coach, we opted for a 15-meter VDL coach, suitable to carry 56 passengers. Comfortable, reclining seats and large distances between the rows made us available to begin trainings in Denmark on the same day.
Kamil, Football club,
Poznan county
A large group of school-aged children is a challenge for any tour guide or driver. It turned out that this was not a problem for the OSKAR employees. Our drivers were very friendly and kind to the children. They were always on time! And when the kids got bored with the journey, tablets with interactive games worked great. A big asset!
Gabriela, School headmaster,
Poznań
The multimedia equipment of OSKAR TRANS coaches fits into the highest standards for passenger transport. The application of interactive systems as FUNTORO and BUSPAD, wireless internet access and possibility to charge electronic devices allows passengers to carry every-day business and social activity.
Organizers of Beijing Outbound Tourism Fair
We contacted OSKAR to hire a coach for a trip. We were positively surprised that we received an offer not only for coach lease but also for planning the entire trip. Everything was prepared quickly and the final result was very satisfying.
Katarzyna, Dance Team Manager, Piła
The "budget" double-decker has proven to be very spacious – passengers on both lower and upper deck were able to move freely without limits due to the height. Each of 82 passengers had possibility to travel in a position that was not too exhausting during almost 30-hour trip to italian dolomites
Adam, Event Group specialized in student's ski trips,
Wroclaw
I'm a permanent customer of OSKAR-TRANS and I can confirm all the positive reviews. Very good value for money, everything is always compliant with the offer. Outstanding contact with the employees – they are kind, friendly and always ready to help. I can definitely recommend cooperation with this partner!
Agnieszka, Tour operator,
Sosnowiec
For the purpose of transporting foreign partners on a package tour to polish suppliers, we have chosen the most exclusive IRIZAR coach. LDC Suppliers' words were confirmed – during the journey passenger have been truly resting on spacious chaise-longues. During the two longer distances we have performed a motivational training, using the equipeed multimedia technology – FUNTORO.
Piotr, PR Department Manager, leader in the food industry
Thank you for your help in choosing a coach for our package pilgrimage. Clearly visible monitors and sound system that was clear in repection allowed us to perform common prayers and made evening rides more attractive. An additional feature of the new 15-meter coaches are seats – headrests provide comfort during naps, while adjustments allow you to set the angle of the seat as well as spread them to the sides.
Group of pilgrims,
Archdiocese of Gniezno